Test-Driven Design & Development
Typhoon HIL's Virtual Hardware-in-the-Loop (V-HIL) is an offline simulation tool used to replicate the behavior of a physical HIL hardware device under various constraints within a digital environment. As no physical hardware is required, Virtual HIL can replace your HIL infrastructure during the during the model and test script development.
Speed up the technology adoption with less overhead using our Virtual HIL license, free of charge to get familiar with our HIL simulators using their virtual twin. 
Boost your confidence in product performance.
What makes Typhoon V-HIL unique?
Our V-HIL is a true enabler of test-driven development processes where it becomes possible to start building SIL and HIL models during the design phase. We developed V-HIL with a goal to provide a cost-effective and efficient way to accurately model the behavior of real-world hardware components, including their responses to inputs, signals, and disturbances in both the power and controller stages.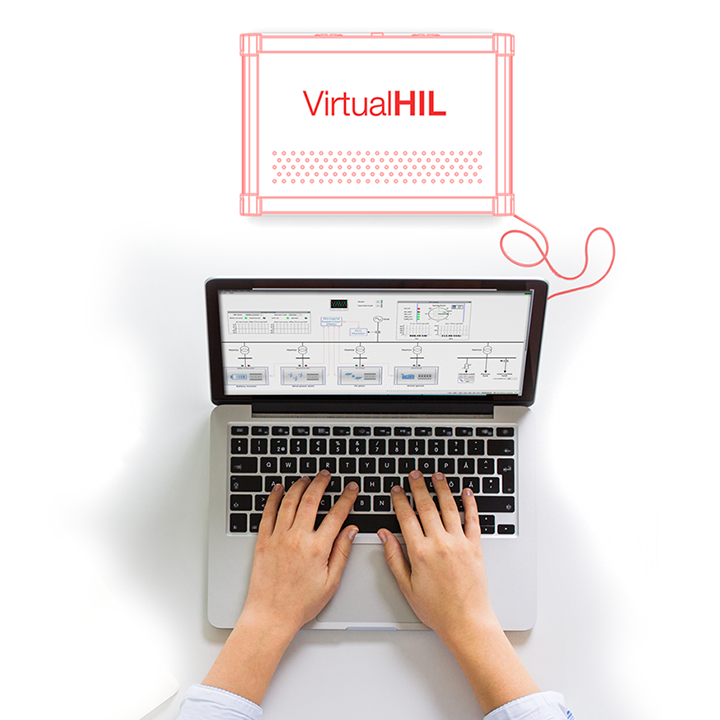 V-HIL allows you to:
Develop, simulate, and verify models that are only one click away from real-time execution.

Speed up the development of models and test scripts, regardless of how many HIL devices you have.

Run all your existing models, developed for your actual HIL device, in non-real time without any modification.

Use the capabilities of the HIL software toolchain and its core features without a HIL real-time device.

Transfer all modeling and test development tasks that do not require a physical interface to the real world to Virtual HIL and dramatically boost the utilization of your HIL resources.

Drastically shortening end-of-the-line validation and commissioning efforts
Not ready for the testing constraints offered through V-HIL? Try our offline simulation which allows for more modeling flexibility in your earlier design phases and research.
Design control with confidence
We can get go test coverage and confidence that the control solution will work in the real plant scenario.