HIL TI DSP 180 Interface
Our Hardware-in-the-Loop (HIL) Digital Signal Processor (DSP) interface serves as a communication bridge between the DSP and the simulation environment, allowing real-time data exchange and control between the DSP and other components of the HIL setup, such as sensors, actuators, or control units.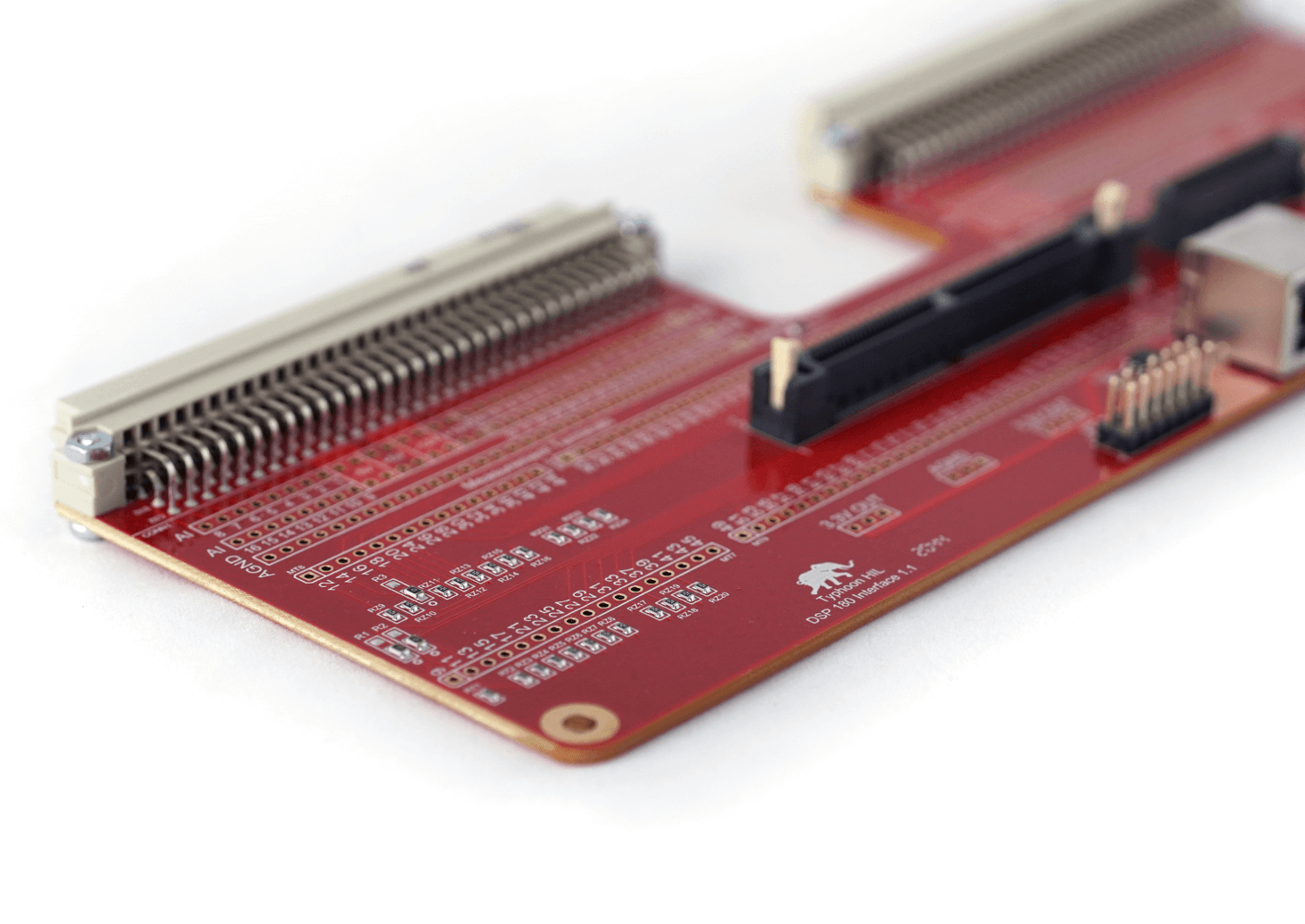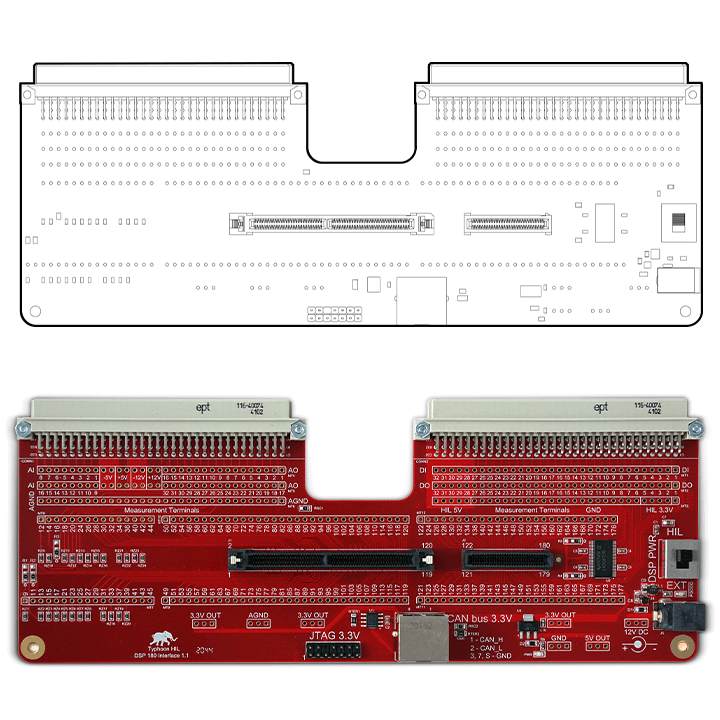 Pin-to-Pin Compatible Interface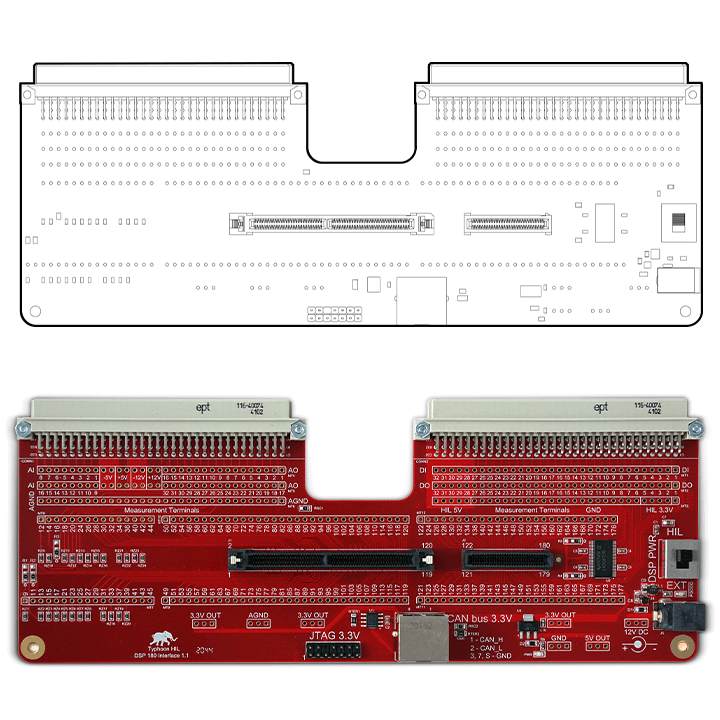 Uniquely, our HIL TI DSP 180 provides a pin-to-pin compatible interface between Typhoon HIL emulators connecting Texas Instruments (TI) C2000 control cards. In less than 5 minutes you can plug a HIL TI DSP interface to a Typhoon HIL emulator map that signals and runs with a closed loop control.
Accelerate your controller development today with our plug-and-play TI DSP based HIL interface and pin-to-pin compatibility.
Features and Benefits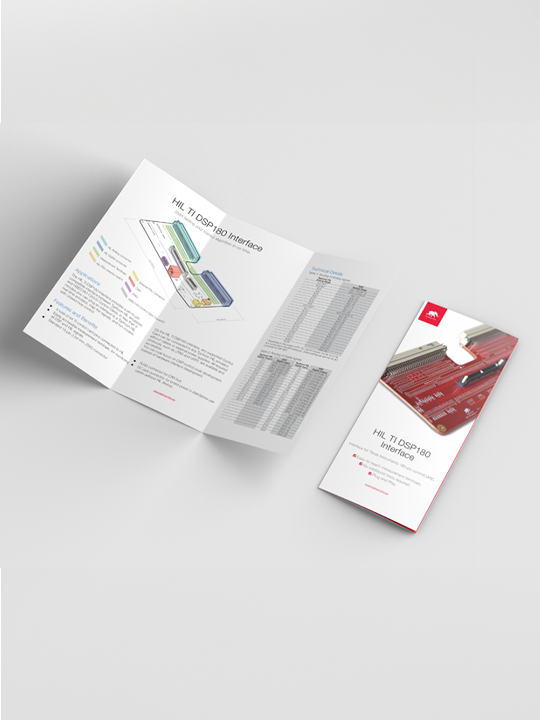 An added bonus for our customers utilizing this specialized hardware interface integration allows them to focus on DSP control code development, without worrying about schematic and printed circuit board (PCB) design. Additionally, all required protocols, such as JTAG and UART, are available and accessible through this interface.
A total of 64 TI control card pins connected to HIL
Easily accessible measurement terminals, for monitoring all DSP and HIL signals
Standard 13 pin 2.54 mm JTAG connector
RJ45 connector for CAN bus
DC jack connector, for board power in standalone use cases (without HIL device)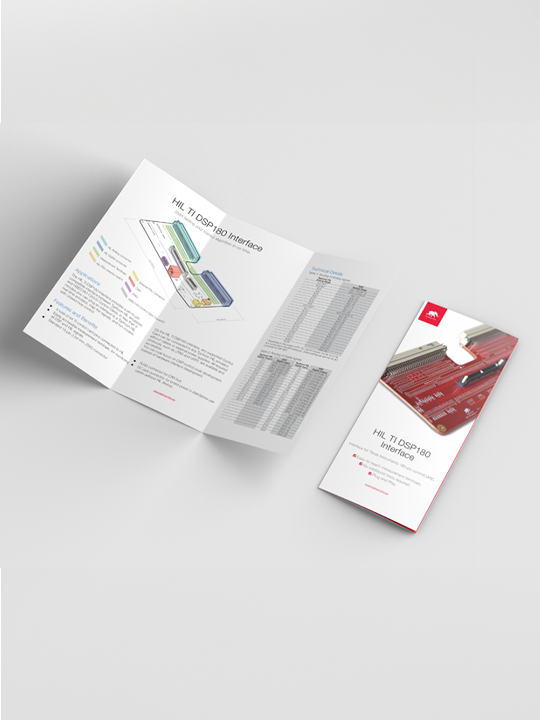 Apr 20, 2023
25 ns DC-DC Solver | 2023.2 Release Tutorial
This tutorial demonstrates how to use the 25 ns DC-DC solver, updated starting with the 2023.2 software release of Typhoon HIL Control Center. This improvement further advances the state-of-the-art in real-time modeling of dual active bridge and resonant converters, meeting the rigorous testing needs of bidirectional high-frequency DC-DC charger applications. In addition, Dual active bridge and Resonant converter components are now available on 3rd generation HIL602+ and HIL604 devices with a timestep of 50 ns.